Click on the links in the box below to take you to each dish.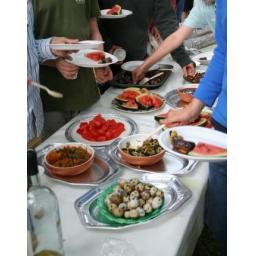 GUSTATIO
'DORMOUSE' WITH HONEY & POPPY-SEEDS
DATES ALEXANDRINE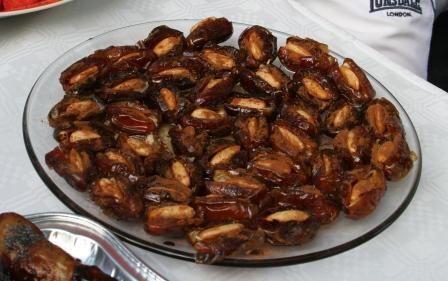 Ingredients: Dates
Blanched almonds
Ground cinnamon
Honey
Remove pits from the dates, and replace them with the blanched almonds, first rolled in the ground cinnamon.
Sprinkle a little more cinnamon (to taste) over the dates; then drizzle with plenty of honey.
Heat through in a moderate oven (do not overcook!) and serve warm.
EPITYRUM (BLACK & GREEN OLIVES WITH HERBS)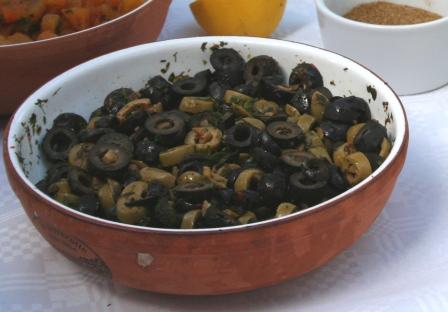 Ingredients: Green and black olives
Olive oil
Red-wine vinegar
Rocket leaves
Fennel fern
A couple of sprigs of garden mint
Some coriander leaf (if desired)
Pit the olives and chop coarsely. Chop up together all the herbs (use plenty) and mix in with the olives.
Drizzle on several spoonfuls of olive oil and vinegar - enough to add a tang without drowning the other ingredients.
GUSTUM DE PRAECOQUIS
(DRIED APRICOTS WITH MINT & HONEY)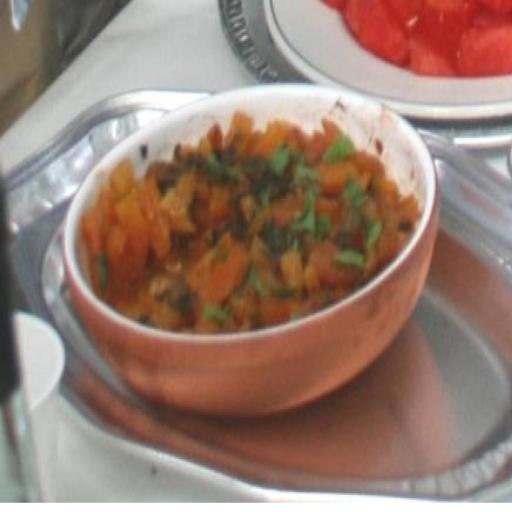 Ingredients: Dried apricots
Honey
Ground cinnamon
White grape juice (or grapefruit juice)
A little cider-vinegar
Some sprigs of garden mint and lemon balm
Squeeze of lemon juice
Chop the dried apricots coarsely. Sprinkle with cinnamon to taste.
Chop the mint and lemon balm (as much as you like!) and mix with the apricots. Drizzle liberally with honey; pour on the fruit juice (enough to moisten the whole bowl without making it too 'liquidy'), add a splash of cider-vinegar, and mix thoroughly.
Squeeze a little lemon juice over the dish before serving.
"DORMOUSE" WITH HONEY & POPPY-SEEDS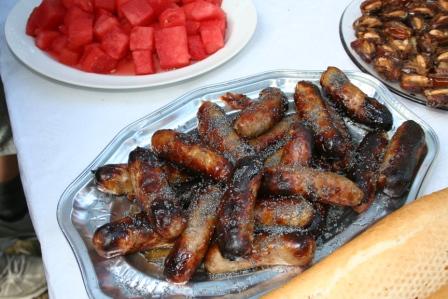 Ingredients: 'Dormouse substitute' sausages
Honey
Poppy-seeds
The original Roman recipe involved cleaning out the mouse, stuffing with herbs and spices, and then encasing it in clay: after it had been baked, the clay would be cracked away, taking the fur and skin with it…!
As 'dormouse substitute', pork sausages do fine - the ones with apple seem to go particularly well with the honey; equally possible would be ones with apricot. Anything savoury should be avoided.
Bake the sausages, pouring off all the excess fat regularly, until they are well-coloured. Remove from the pan and again mop off any lingering fat.
Pour honey generously over the sausages, and sprinkle poppy-seeds on top.
Easy as that!
QUAILS' EGGS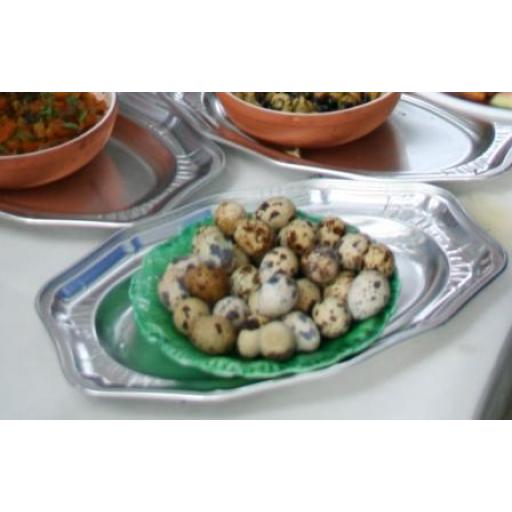 Ingredients: Quails' eggs
Celery-salt
For a medium-hard-boiled egg, bring plenty of water to the boil, add eggs carefully, and simmer for 3 minutes.
Cool immediately in cold running water.
Serve with celery-salt as a dip (some younger or inexperienced guests may need reminding to peel the eggs first….I've known it happen….!).
OTHER EASY POSSIBILITIES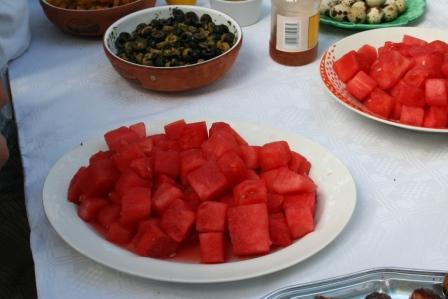 One constant favourite, which needs no special preparation, is WATERMELON, simply chopped into chunks. The refreshing taste works especially well with some of the more exotic flavours above!
Equally easy to obtain (rather than make) would be anchovies dressed ad lib., garlic snails (for the more adventurous), and any type of pickled vegetable 'under oil' as the modern Italians put it.